Buy Used 'Scooter Honda Activa' 125cc powered scooter of 2016 made in Hyderabad for less than 30 thousand, according to OLX website.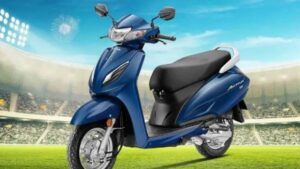 This Second Hand Honda Activa has become popular among the customers since its launch. Activa has gradually captured the market after its launch and at present, if a customer wants to buy a new scooter, then Activa is the first thing that comes to mind. But with the passage of time, the prices of Activa have started touching easily, if you go to buy a new Activa today, you may have to spend up to Rs 1 lakh. But if your budget is not that much, because of this you are thinking of bringing a Used Scooter home, then you can buy an Activa for less than 30 thousand on OLX, a site selling used vehicles and other accessories.
Model and how much this scooter has run: According to the information given on OLX, this scooter of Honda Activa 125cc has traveled 27,000 km. Let us tell you that this is of July 2016 model, that is, if a customer buys this Activa today, then it will be able to run for 9 years. This is because we know that it has been decided by the government that a petrol vehicle can be driven only for 15 years.
This Honda Activa 125cc scooter is being sold by its first owner, the first owner. According to the information given on OLX, the Activa has been serviced recently and this popular scooter of Honda brand is in good condition.
Where is this scooter and how much is the price? Now you must be thinking that our country is so big but in which state is this scooter available? For the information of you people, let us tell you that you will get this scooter in Hyderabad circle for 28 thousand rupees.
Note and caution: The information given above related to this model of Honda Activa 125cc is based on the information available on the online platform OLX. We would advise you not to do transactions without meeting the owner of the vehicle and seeing the scooter. Also, check the documents of the scooter yourself. #tohyd #hydnews